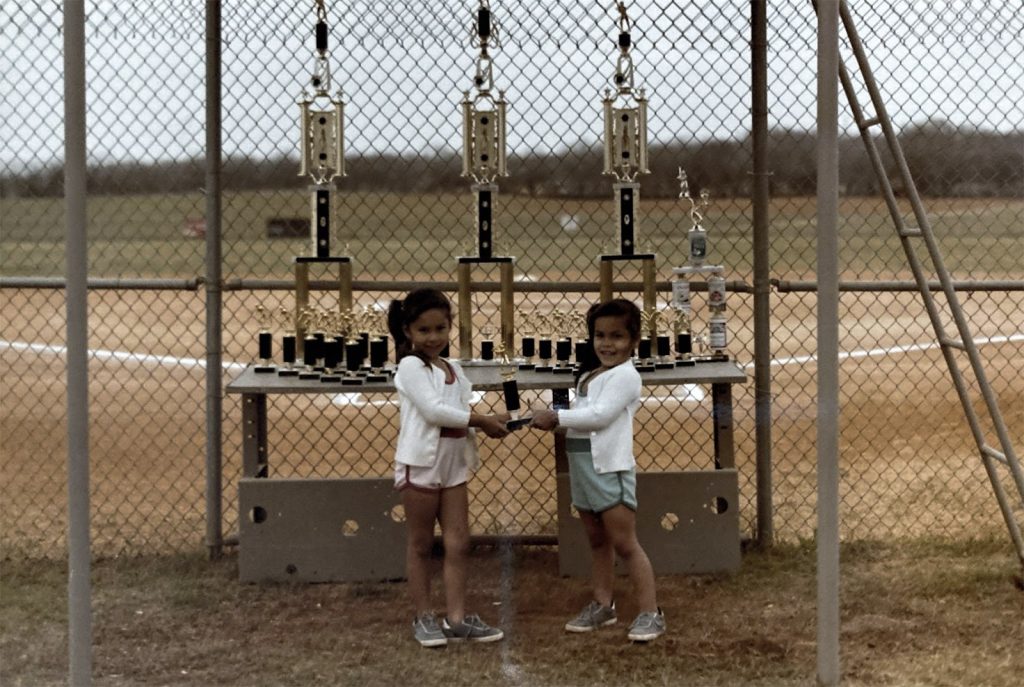 (Phyllis with her sister Rebecca at the Softball Complex)
I'm Your Homegrown D3 Councilwoman
I'm from District 3–the Southside. That's why I know this community so well. I've always been a part of it. Growing up, my parents owned and ran the Viagran Softball Complex, which served as a backdrop for homeruns and heartfelt cheers. It was a place for community to come together to play, celebrate, and root for their family's team.
Inspired by the Complex's success and the community impact, in 1988 my family opened a second small business, Alamo Awards and Trophies, to create awards for all types of achievements from school excellence to sports trophies to retirement plaques. It truly was a family business, where my mother, father, sister and I worked alongside my aunts, uncles, and cousins to help celebrate the many successes in our community.
I got to interact with people from across the Southside and help them commemorate the many achievements in their lives. Ultimately, as large, online trophy stores became more popular, our small, family business struggled and eventually had to close its doors. That experience taught me so much about what it means to run a small business in the Southside and how family and community work together to power through the tough times. It also taught me the importance of hard work and inspired me to pursue higher education.
I earned my bachelor's degrees in Political Science and History from Texas Tech University, where I proudly served as Champlain and pledge leader for Sigma Phi Lambda. After graduating, I came back to San Antonio and worked as a teacher in Castroville. After a few years, I earned my master's degree in Bicultural Studies from The University of Texas at San Antonio and began to teach on the Southside.
In 2009, I was hired by the San Antonio Police Department as a Community Service Specialist, where I regularly worked with individuals involved in domestic family violence. In 2016, I began to work for Visit SA as the Destination Services Coordinator, and later in 2018 was promoted to Membership Sales Coordinator. After being furloughed due to the pandemic in June 2020, I began to work for Older Adults Technology Services as a Community Outreach Coordinator and Trainer. These experiences all gave me a unique insight into the struggles facing our district. Insight which I have used to improve our community as your City Councilwoman.
Since I was first elected in June 2021, I have fought hard to build the robust community that we deserve. I secured nearly 50+ million dollars for over 40 projects here in District 3. Among those are park and library improvements, infrastructure development, and the much-requested Police Substation! I'm proud to continue serving my community, and with your help, we can keep building a better District 3 for years to come!
Meet Phyllis: Accomplishments
Since being elected, I've worked to identify some of our district's most pressing issues and find meaningful solutions. Here are some recent examples:
To see the ways I continue to fight for our community, check out my platform!